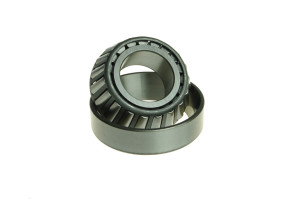 Tapered roller bearings are uniquely designed to manage both thrust and radial loads on rotating shafts and in housings. Tapered roller bearings come in many types: single, double and four-row tapered roller bearing configurations.
These bearings consist of four interdependent components: the cone, or inner ring; the cup, or outer ring; the tapered rollers, or rolling elements; and the cage, or roller retainer. The taper angles allow the bearing to handle a combination of radial and thrust loads. The steeper the cup angle, the greater the ability of the tapered roller bearing to handle thrust loads.
The single-row configuration is the most basic and widely used and consists of the cone assembly and the cup. It is usually fitted as one of an opposing pair. During equipment assembly, single-row tapered roller bearings can be set to the required clearance or preload condition to optimize performance.
Double row tapered roller bearings feature double cups and two single cones. These bearings are available in a variety of configurations for general industrial and automotive applications.
Four-row tapered roller bearings combine the inherent high-load, radial/thrust capacity, and direct/indirect mounting variables of tapered roller bearings into assemblies of maximum load rating in minimum space.